Previous Post:
My Capclave Schedule
&nbsp Next Post:
Athena's Daughters Has Achieved Cover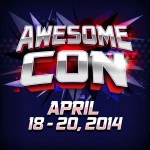 Friday, Saturday and Sunday will find me at the DC Convention Center, indulging in the delights of Awesome Con. Since this will be my first Awesome Con, my schedule is unusually light:
5:15-6:15 p.m., Friday, April 18
Part Time Writer, Full Time World
11:45 a.m. – 12:45 p.m., Saturday, April 19
Writing Fantasy
This means I'll get to hang with buds like Gail Z. Martin and Silence in the Library Publishers Janine Spendlove and Ron Garner. Yay! Even more remarkable, after more than a decade as a con guest, I might actually get to see some panels other than my own. I can't wait!
Hope to see you there.
Tags: awesome con, gail z. martin, janine spendlove, jean marie ward, silence in the library publishing