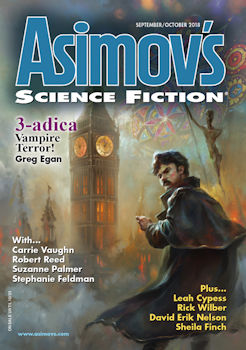 Asimov's
Science Fiction
Spacer
September/October 2018
Asimov's slightly spooky September/October 2018 issue is filled with chills and thrills! Greg Egan's "3-adica" features vampires, monsters and math, oh my. Find more alarming creatures in Carrie Vaughn's tale of "The Huntsman and the Beast"; suffer a rigid society with alien influences in Robert Reed's "Denali"; meet the eerie folk inhabiting the endless graveyard of Sheila Finch's "Survivors"; or see the lighter side of human extinction in Suzanne Palmer's "R.U.R.-8?". Doug C. Souza's "Callisto Stakes" offers a vision of true bravery; while Stephanie Feldman reveals why you should beware "The Witch of Osborne Park". Also featured are new author Erin Roberts's "The Grays of Cestus V"; Rick Wilber's new Moe Berg novella, "The Secret City"; David Erik Nelson's "In the Sharing Place"; Leah Cypess's haunting tale of revenge "Best Served Slow"; and in her unsettling first story for Asimov's Jean Marie Ward invites you to jump into "The Wrong Refrigerator."
"['The Wrong Refrigerator'] was just a perfect little story with just the perfect ending!"
2018 Asimov's Science Fiction Readers' Award Finalist (Novelette)
Read the story, or order the hard copy from Asimovs.com.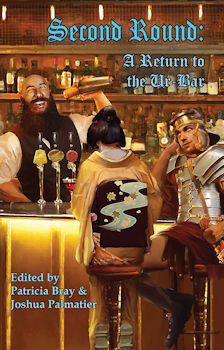 Second Round:
A Return to the Ur-Bar
Spacer
The drinks are on the demigod.
For thousands of years the immortal Gilgamesh has presided over the legendary Ur-Bar, witnessing history unfold from within its walls. Some days it is a rural tavern, others a fashionable wine shop. It may appear as a hidden speakeasy or take on the form of your neighborhood local. For most patrons it is simply a place to quench their thirst, but for a rare few the Ur-Bar is where they will meet their destiny.
Join R.K. Nickel, Rachel Atwood, Kari Sperring, Jean Marie Ward, Gini Koch, Jacey Bedford, William Leisner, Garth Nix, Diana Pharaoh Francis, David Keener, Mike Marcus, Kristine Smith, Aaron M. Roth, and Juliet E. McKenna as they recount all new tales from the Ur-Bar. From humor to horror, from the Roman Empire to Martian Colonies, there's something to please everyone.
Just remember to beware when the mysterious bartender offers you the house special…
Read an excerpt. Order from Amazon, Barnes & Noble and One More Page Books & More.
Spacer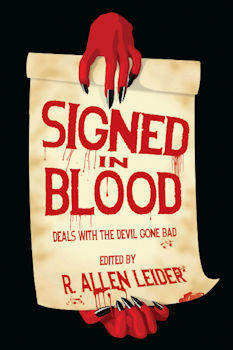 Signed in Blood
Spacer
Just sign on the dotted line and all your dreams
come true for a time…Then Hell is in session!
Here are twisted "soulful" tales of terror and humor about those who seek fame, fortune and power the easy way — but at the greatest expense. Step up because we have a custom contract written just for you.
"We the undersigned, fully understanding of the risks involved, do willingly present our tales of infernal dealings, agreement and contracts."
CJ Henderson, John L. French, Gary Lovisi, Patrick Thomas, J. Brad Staal, Jean Marie Ward, Robert E. Waters, Duncan Ralston, Patrick Loveland, Jack Dolphin, Quintin Peterson, Audrey Parente, and Mickey Spillane.
Read an excerpt. Order from Amazon, Barnes & Noble and One More Page Books & More.
Spacer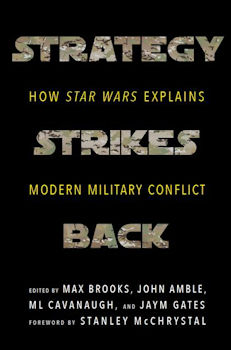 Strategy Strikes Back
Spacer
How Star Wars Explains Modern Military Conflict
The most successful film franchise of all time, Star Wars thrillingly depicts an epic multigenerational conflict fought a long time ago in a galaxy far, far away. But the Star Wars saga has as much to say about successful strategies and real-life warfare waged in our own time and place. Strategy Strikes Back brings together over thirty of today's top military and strategic experts, including generals, policy advisors, seasoned diplomats, counterinsurgency strategists, science fiction writers, war journalists, and ground‑level military officers, to explain the strategy and the art of war by way of the Star Wars films.
"This may be the most innovative and interesting book on military strategy ever published. While this may seem like an exaggeration, Max Brooks, bestselling author of World War Z and a fellow at both West Point's Modern War Institute and the Atlantic Council's Art of Future War project has done the seemingly impossible—made the esoteric subject of military strategy simultaneously fun and educational to the masses."
Jerry Lenaburg for New York Review of Books
Read an excerpt from "Jean Marie Ward's "Jedi Mind Tricks: From the Reel to the Real". Available from One More Page Books & More, Amazon, Barnes and Noble, and Potomac Books.
Spacer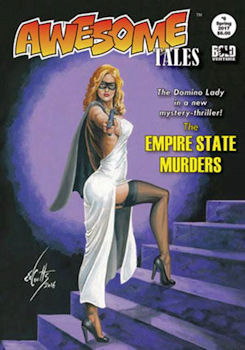 Awesome Tales 6:
Give Them a Corpse
Spacer
Six tales dedicated to the proposition that the female of the species is deadlier than the male
From the Domino Lady to a dangerously duplicitous movie star to a Malibu housewife with her own recipe for just deserts, Awesome Tales 6 will insure you never again mistake women for the weaker sex. Includes "Give Them a Corpse" by Rich Harvey, "The Platinum Membership" by KT Pinto, "Caring" by CJ Henderson, "Dance of Death" by Patrick Thomas and John L. French, "Doubt" by DJ Tyrer, and "Clear as Glass" by Jean Marie Ward, with cover and illustrations by Edd Coutts.
For a taste, read Jean Marie Ward's "Clear as Glass". Available now from Amazon and Bold Venture Press.
Spacer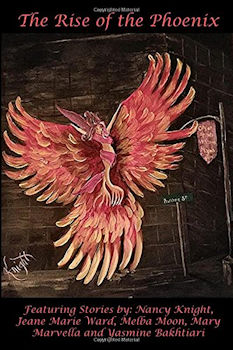 The Rise of the Phoenix
Spacer
Summer is the season
for the most fantastic con of all
MagnaCon is one of the largest gatherings of science fiction, fantasy, and horror fans in the world. But is that all it is? Rumor whispers there's more than FX magic at work in its halls, meeting rooms and endless elevators. Discover what's really going on behind the scenes of the greatest con of all in this anthology of stories by Nancy Knight, Jean Marie Ward, J.M. Whit, Trina Krieger, Georgiana Fields, Mary Marvella, Jeanne De Sa, Melba Moon, Michael Conley, Nan Manroe, Carol Shaughnessy, Todd Geller, Yasmine Bakhtiari, Dan McGirt, J.T. Arralle and Jesse Slade.
Read an excerpt. Available now from Amazon
.
Spacer
Spacer